Best Farmers' Markets in Baton Rouge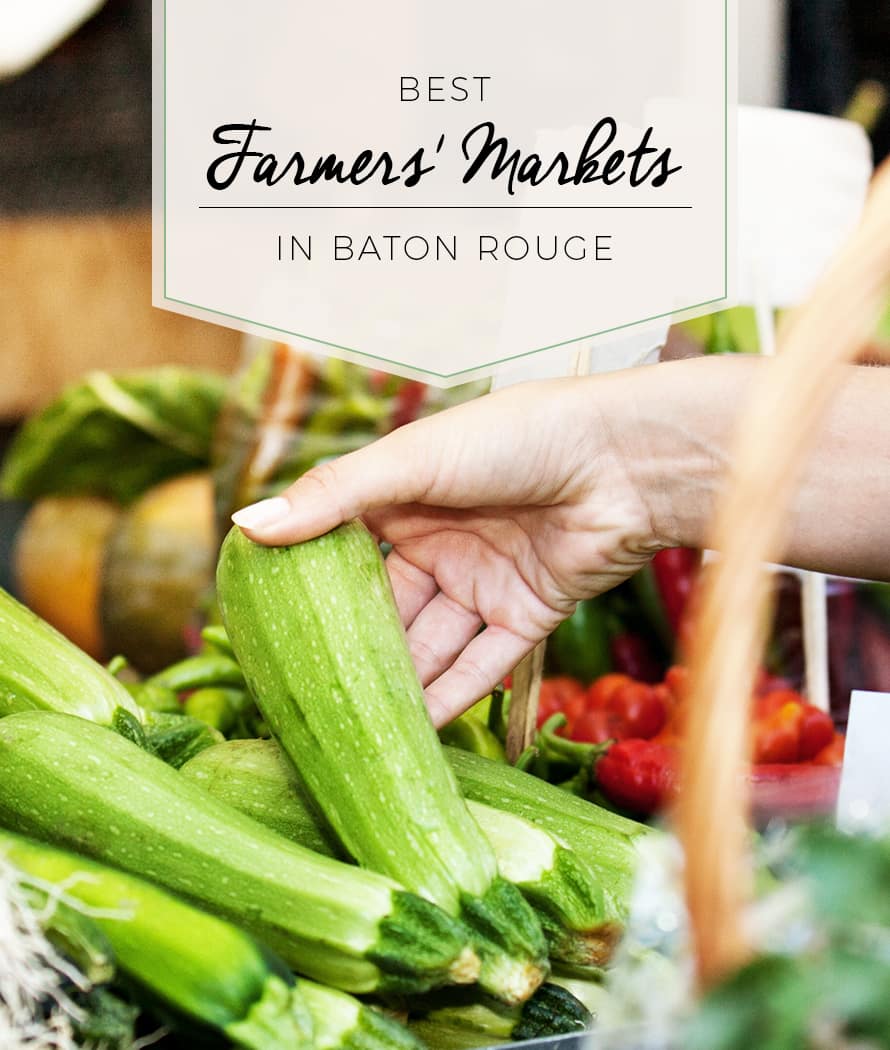 With some of the most flavorful fresh salads downtown Baton Rouge has to offer, we at Milford's on Third prefer to emphasize fresh ingredients and local flavors. Locally sourced foods are the best way to make sure your ingredients are fresh, and they also help support the local food community and economy.
Like many farm-to-table restaurants in Baton Rouge, we know the importance of making use of local farmers' markets. Whether you've lived here your entire life or are just visiting, it's always a good time to get to know these vital components of the local food industry.

So, which farmers' markets do Baton Rouge food lovers frequent most? Five of the most popular are:
Red Stick Farmers' Market
Red Stick Seasonal Mobile Markets
Main Street Market
Alexander's Pop-Up Markets
Fresh Pickin's Market
Let's take a detailed look at what makes each of these farmers' markets special, the types of products they have available and three reasons why you should give each a visit.
Red Stick Farmers' Market
Location: 6400 Perkins Road on Thursdays, 501 Main Street on Saturdays
Hours: 8 a.m. to noon
Products Available: Since Milford's on Third is one of the best fresh delis in Baton Rouge, there's no reason for us not to love Red Stick Farmers' Market. The market has a wide variety of vendors across numerous categories, including produce, baked goods, dairy, meat and seafood. There are also vendors selling non-food items, including a large selection of plants and flowers.
Here is a sample of some of the vendors at Red Stick Farmers' Market, separated by category:
Produce
The cornerstone of any good farmers' market is its selection of produce, and Red Stick Farmers' Market lives up to the challenge. Here is a sampling of the market's produce vendors:
Chenier Farm sells a wide variety of potatoes, as well as cabbage, turnips, purple-hull peas, various squashes, beans, peppers and cucumbers.
Fekete Farm specializes in local strawberries, summer melons, sweet and green onions, cherry tomatoes, peppers, parsley and lettuce.
Fletcher Family Farm has fresh strawberries, as well as strawberry products, including bread and jelly. It also features tomatoes, beans, cucumbers and mustard greens.
These three are just a very small sampling. Take it from one of the best fresh sandwich restaurants in Baton Rouge!
Baked Goods
There are also many vendors selling baked goodies at Red Stick Farmers' Market, including:
Blue Ribbon Pies sells a wide variety of pie flavors, including apple, blueberry, blackberry, peach, pecan, pumpkin and sweet potato. We also like their sugar-free tarts.
Dillard's Old-Fashioned Teacakes — Just as the name indicates, this bakery specializes in homemade old-fashioned teacakes, as well as sweet potato pies.
Our Daily Bread features fresh bread baked daily, along with many other items such as organic produce, herbs, natural cosmetics and even books.
Dairy
It wouldn't be a true farmers' market without a nice selection of dairy products, and Red Stick Farmers' Market delivers here as well. Here are some examples:
Belle Ècorce Farm offers gourmet goat cheeses and spreads that are perfect for entertaining.
Feliciana's Best Creamery — Dairy products include whole, skim and reduced-fat milks, as well as chocolate milk, butter and heavy cream. Also check out Feliciana's if you need a dozen — or more — eggs.
City Gelato sells creamy, locally made gelato.
Meat & Seafood
We're in Louisiana, after all, so seafood is a must. Here are a handful of seafood vendors you'll run into at Red Stick Farmers' Market. It's also one of the best farmers' meat markets in Baton Rouge:
Anna Marie Seafood specializes in wild-caught Louisiana shrimp, as well as Gulf flounder.
Outlaw Katfish Company — Wild-caught catfish is the specialty here, but you'll also find claw and lump crabmeat, crab dip, live crabs when in season, stuffed crabs, soft-shell crabs and alligator sausage.
Cutrer's Meat Market — Around for nearly 60 years, Cutrer's features a wide variety of sausages, as well as grass-fed beef and various hickory-smoked meats.
Gonsoulin Cattle offers local and responsibly sourced meats, including grass-fed lamb and beef.
Local Products
We love buying local, and Red Stick Farmers' Market is the perfect place to do so. Some examples:
Amato's Winery and Farm sells locally produced wines, as well as Italian ricotta cheese and homemade pork sausage.
D'Agostino's Pasta features locally made dried pastas, as well as marinara sauce.
Re: specializes in garlic-based vinaigrette and marinades.
Plants and Flowers

Plants and flowers have a large presence at the market, including:
Greenhand Nursery sells in-season flowering plants, as well as fruit trees, vegetable plants and tropical plants.
Naquin Tomato Farm — As its name suggests, this is a great place to find fresh tomatoes. They also offer other seasonal vegetables, vegetable seedlings and eggs.
Mizell Farm features bedding plants for both spring and fall, landscaping plants and trees, perennials, herbs and roses.
Other
It's not all food and plants at Red Stick Farmers' Market. Here are three great vendors that fit the "other" category:
Bocage Bee & Honey Company features locally produced honey and beeswax goods.
LSU Press sells books written by local authors.
La Plum de ma Tante offers hand-painted note cards.
Three Reasons to Visit
The restaurants. We've mentioned plenty of vendors, but there are also several onsite restaurants serving breakfast and lunch.
The selection. If you need it, you'll likely be able to find it at Red Stick Farmers' Market.
The location. With the market's downtown location, you'll be within walking distance of the best fresh salad place Baton Rouge has to offer (Milford's, of course).
Red Stick Seasonal Mobile Markets
There are also some smaller seasonal Red Stick markets around Baton Rouge, weather permitting. Here is some basic information.
Location: EBRP Main Library on Tuesdays, Star Hill Church on Wednesdays and Exxon Mobil YMCA on Thursdays.
Hours: The markets are open from 8 a.m. to noon on Tuesdays and 9 a.m. to noon on Wednesdays and Thursdays.
Products Available: The products available at these markets can vary by day, season and market. Many vendors from the main Red Stick Farmers' Market also have a presence at the smaller seasonal mobile markets. No matter which vendors show up on a given day, it's a safe bet you'll find a wide variety of locally sourced fruits, vegetables and dairy products.
Three Reasons to Visit
Depending on where you live or work, one of these seasonal mobile markets might be easier for you to get to.
Since the markets are open on weekday mornings, it's a great opportunity to pick up some fresh foods to make for dinner later that night.
These smaller markets tend to foster more of a family atmosphere, so don't be afraid to get to know your favorite vendors.
Main Street Market
Location: 501 Main Street, at the corner of Fifth and Main.
Hours: Monday-Friday 7 a.m. to 3 p.m., as well as Saturdays from 8 a.m. to 1 p.m. in conjunction with Red Stick Farmers' Market.
Products Available: The Main Street Market is home to specialty shops, restaurants and cafes, including:
Chef Celeste's Bistro features dishes by talented local celebrity chef Celeste Gill.
Our Daily Bread specializes in natural and organic products, including breads, groceries, meats and personal care items. It also features a natural food café.
Plantation Pecan sells a wide variety of pecans, along with pecan-based products, including pies and fudge.
Go Ya Ya's Creperie is a dessert and coffee bar that specializes in crepes and also features breakfast and lunch items.
Paul Wong's Chinese is a great Chinese spot perfect for lunch, featuring a rotating menu.
Red Stick Spice Company is a gourmet spice shop that sells spices, blends/rubs, peppers, olive oils, sea salts and teas.
Socially Yours Inc. is a full-service catering facility with a wide variety of menus to choose from.

Three Reasons to Visit
It's indoors. That means if the weather isn't that great, the shops will still be open.
The location. Again, since it's downtown, it's just a stone's throw away from Milford's on Third.
Free Wi-Fi. If you're stopping in for lunch during work, you can still check your email while you eat.
Alexander's Pop-Up Markets
Location: Alexander's Highland Market, 18111 Highland Market Drive
Hours: The pop-up farmers' markets typically take place on the first Sunday of each month from 10 a.m. to 2 p.m.
Products Available: The products available at Alexander's pop-up markets can vary from month to month. For the June event, vendors included:
Rome Farm
Cypress Springs
Ewing Farm
J&D Blueberry Farm
Season to Taste
Raw Sugar Toffee
Davis Farm
Blazing Saddles Salsa
Andi Lynn'e Elderberry Syrup
Red Stick Spoon
Southern Belle Boutique
Carolyn Rodrigue Art
Since the vendors that take part can change from month to month, it's always a good idea to check out the Alexander's website for an idea who will be there.
Three Reasons to Visit
Since vendors rotate each month, you're bound to come across something new and delicious.
Family time. Since the markets here take place on Sunday, it's a good after-church activity for the family.
The grocery store. Alexander's Highland Market is also a nice grocery store, so be sure to visit it as well when you stop at one of the pop-up markets.
Fresh Pickin's Market
Location: 10375 Coursey Boulevard, with an additional location in Lafayette
Hours: 7 a.m. to 7 p.m., seven days a week.
Products Available: Fresh Pickin's is an open-air market that specializes in locally grown fruits and vegetables, as well as local honey and a wide range of Cajun products. Here is an overview of what's available:
Depending on the season, the market features 10 varieties of apples, along with just about any other fruit you could think of, such as bananas, blueberries, cantaloupes, coconuts, grapes, kiwi, mangos, papayas, peaches, pears, pineapples, plums, strawberries and watermelons. Citrus fruits such as limes, lemons, oranges and tangerines are available, as well as Louisiana citrus, including sweet oranges, kumquats, satsumas and grapefruits.
Similar to fruits, if you can think of a vegetable, you'll most likely be able to find it here. Its partial roster of vegetables includes avocados, five types of carrots, corn, six types of lettuce, leeks, five kinds of mushrooms, peas, three types of peppers, spinach, and three types of squash. Also available are 10 types of potatoes, six types of tomatoes, nine different chili peppers, seven types of onions and a variety of specialty vegetables.
Frozen items. In addition to fresh options, there are typically 50 or more varieties of fresh frozen fruits and vegetables on hand, which varies seasonally.
Condiments/non-produce. The market also has a huge selection of condiments and other non-produce items, such as honey, syrups, barbecue sauces and marinades, spices, rice, hot sauce, dried mushrooms, vanilla, minced or chopped garlic, olive oils, breads, salad dressings, dried pasta, canned vegetables, fresh Italian and Amish cheeses and fresh peeled garlic.
Gift baskets. A great gift for any occasion, Fresh Pickin's has many types of fruit baskets to choose from, and some also include jellies, sauces, seasonings or pickled items. Gift baskets begin at $14.99 and can be fully customized.
Three Reasons to Visit
If a fruit or veggie is in season, it's a safe bet you can find it at Fresh Pickin's. The market's many unique items give you the opportunity to try something new.
The gift baskets. Since the market has lots of items to choose from, it's easy for you to put together a gift basket for any occasion.
Cajun goods. You can't think Louisiana without thinking Cajun, and Fresh Pickin's has so many items for you to choose from.
Freshness at Milford's on Third
Since we pride ourselves on offering fresh and local ingredients, we know how important a good farmers' market can be. Having fresh ingredients on hand is great for a homemade meal, but if you don't have time, be sure to stop in and give us a try.
Think of Milford's on Third as a true-to-life New York City deli experience in the heart of downtown Baton Rouge. We use fresh vegetables and meats in our salads and sandwiches, and if you have a sweet tooth, we have a rotating list of homemade ice cream flavors.
Our downtown location makes us the perfect spot for a quick breakfast or lunch on the go, or we can cater your next party or event. However you like it, when you dine with us, you know you'll always get freshness.

The next time you're out and about hitting the local farmers' markets, be sure to stop in and give us a visit!